Saturday, May 27, 2006
Gokusen Episode 10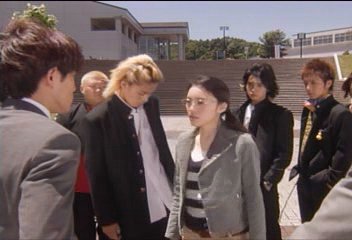 There is a theme of romance running through this episode. As usual, Yankumi is drooling over the handsome detective Shinohara. Of course he is just nice and friendly to her, but shows no obvious signs of romantic interest. Well actually, he does give her a present: a cactus. Yankumi drools over the cactus and places great importance on it. (a sign he likes her!) Meanwhile the class 3-D guys are trying to get some dates of their own as they drag Shin to a 'Goukon' (group date) with some girls from a local girls school. The 3-D guys dress very preppy and try to hide the fact that they go to Shirokin, but the secret is soon revealed, and they are dumped by the girls. Yankumi is also sad because, after enjoying a private meal with Shinohara, she sees him meeting another girl, and believes he has a girlfriend. Also, Yankumi's Yakuza friend Tetsu obviously has a crush on Kumiko, and may be on the verge of giving up on ever getting her. So now everyone is lovelorn. But help for Yankumi arrives when the vice principal's wife arrives and offers her a man to meet for an
omiai
. An
omiai
is a meeting you have with a prospective partner in an arranged marriage. Yankumi sees the omiai as a challenge, so she gets all dressed up and meets the guy. He turns out to be a teacher from a snobby boys school (sort of the opposite from Shirokin) and he likes Kumiko enough to want to continue seeing her. Unfortunately at their next meeting, he expresses his views about Shirokin students, and Yankumi's career that Yankumi doesn't appreciate. Elsewhere, the 3-D guys get into trouble again when they run into a kid fleeing from a video store he just shoplifted from. The 3-D guys get blamed for the theft, and it's up to YanKumi to believe in them and prevent them from getting expelled!
source: http://www.futureblues.com/gokusen

DOWNLOAD TORRENT FILES - sars-fansubs.com
gokusen_ep10_dvd[sars].avi | 350mb
Don't have any idea about Torrent files?
Read this
Vina @ 4:10 PM | Category: | PermaLink |
------------------