Saturday, May 27, 2006
Gokusen Episode 11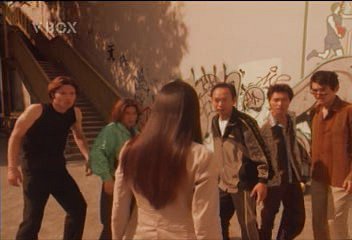 Yankumi is once again called about her students being involved with the police. However instead of being suspects, this time they are actually the heroes! While buying crepes after school, Kuma got into a fight with a stranger on the street who turned out to be a wanted criminal. For capturing him, the gang have become heroes! They even give a press conference, and Yankumi makes the most of the event, squeezing out as much attention for herself (even though she wasn't even a part of capturing the criminal). All the press exposure draws the attention of a weekly magazine reporter who wants to do an article about YanKumi. He brings along a photographer and ovserves Yankumi at school with her students. Of course Yankumi acts all out of character in front of the reporters, pretending to be be a demure, lovely teacher. (hah!) Meanwhile Kuma's father is extremely proud of his son's role in capturing the criminal. He feeds the school staff with food from his ramen shop, and shows everyone who passes by the shop the newspaper article with photos of his son from the press conference. Kuma is embarrassed and angry about all this attention his father is giving him, and lashes out angrily. He soon comes to regret his hateful words when his father suddenly passes away. Yankumi and his friends try to comfort Kuma, but he is very traumatized. He starts skipping school, and is soon looking for trouble to distract himself from his pain. Yankumi tries to help Kuma, but in the process she unwittingly sets herself up for her own downfall thanks to some very curious reporters.
source: http://www.futureblues.com/gokusen

DOWNLOAD TORRENT FILES - sars-fansubs.com
gokusen_ep11_dvd[sars].avi | 350mb
Don't have any idea about Torrent files?
Read this
Vina @ 4:15 PM | Category: | PermaLink |
------------------