Saturday, May 27, 2006
Gokusen Episode 12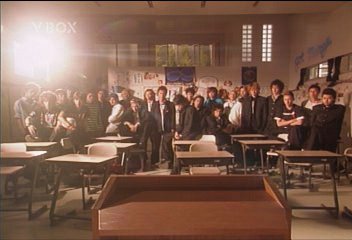 FINAL EPISODE
(other than the special)


Crisis for Yankumi! The magazine featuring an article about her has come out, and there is an unexpected photo in there! Yankumi's secret is finally revealed, and reactions are mixed. The media is in an uproar about Yankumi, and school officials arrive to take control of the situation. Yankumi is asked to resign, but she refuses. Her students take the news of her background very well, but are angry about what the media is saying about her. In an effort to defend her, the class faces the press, but ends up getting into a fistfight with them. This makes things worse. Now the school has an excuse to expell all of class 3-D so that they won't graduate. However, if Yankumi resigns, the class will not be expelled. This forces Yankumi's hand, and to protect her students, she resigns!
ource: http://www.futureblues.com/gokusen

DOWNLOAD TORRENT FILES - sars-fansubs.com
gokusen_ep12_dvd[sars].avi | 350mb
Don't have any idea about Torrent files?
Read this
Vina @ 4:20 PM | Category: | PermaLink |
------------------