Saturday, May 27, 2006
Gokusen Episode 7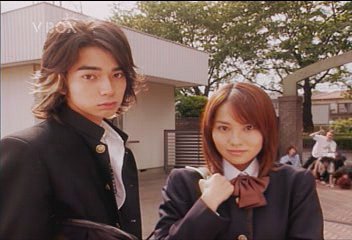 It's time for an episode that focuses on Sawada Shin! Poor Yankumi. It's parent-teacher conference time, and meeting the parents of her unruly students is quite exhausting. The class 3-D guys admire this cute girl that has been waiting at the gate of their school, and are shocked to discover that she is Shin's younger sister! When trying to arrange her parent-teacher conferences, Yankumi is not happy to see no one there for Shin's meeting. She discovers that Shin has been living in an apartment all by himself, while his sister lives with his family. Shin and his father do NOT get along at all, and their disagreements prompted Shin to move out. Things get chaotic when Shin's younger sister accompanies some friends to an illegal gambling club, and the police raid the place. Shin, who had raced to the club to get his sister out of it, is apprehended by the police! Yankumi must try to mend the rift between father and son in order to get Shin out of ail. This is NOT an easy task, as Shin's father is a tough, unyielding guy. But Yankumi's tough too!
source: http://www.futureblues.com/gokusen

DOWNLOAD TORRENT FILES - sars-fansubs.com
gokusen_ep07_dvd[sars].avi | 350mb
Don't have any idea about Torrent files?
Read this
Vina @ 3:59 PM | Category: | PermaLink |
------------------