Sunday, May 28, 2006
Magpakailanman: Marky Cielo Story
Tagumpay ng Lahi
The Marky Cielo Story


Magpakailanman: March 25, 2006




The story starts with memories of Marky Cielo back in the Starstruck days from auditions to his victory in the Final Judgement.
Young Marky Cielo asks Lola about his race, the Igorots. And Lola tells him and his younger sister Andrea to always be proud of their race. Marky tells his Lola a story about an igorot at school who is bullied and Marky says that there is nothing wrong with being an igorot. They talk about the Banaue Rice terraces, the 8th wonder of the world made by the Igorots barehanded.
Marky is fond of drawing since they were still kids. He draws an Igorot and his dad teaches him how to draw a person correctly. Since they were still kids, Marky and Andrea has no idea that their family could be broken. Marky's dad takes a look at his kids, tells them that he loves them, kisses them on the forehead and leaves the room crying.
Marky, his mom (Tita Mildred) and Andrea leaves home. Marky asks where his father is and his mom tells him that his father went ahead first. They leave their home and move to a new home. Marky and Andrea asks about their father. They were almost crushed by the fact that their father left them. Marky's mother keeps crying behind her children. Marky comforts his mother telling her not to cry and that they (he and Andrea) are there for her.
In his young age, Marky witnesses the separation of his parents. He strives to be even stronger for his family.
Marky's mother couldn't always be with her kids while working. Tita Mildred introduces to her kids their new nanny, Ate Len. Tita Mildred gives them chocolates and tells them, "Bago maubos ang mga tsokolateng yan, darating ako." Tita Mildred leaves them and their new nanny changes attitude into wicked mode as expected. They try to play outside but Len forces them to go inside. Len locks the two in the bathroom and their lives became miserable. Tita Mildred has no idea about the true attitude of Len. Tita Mildred even praises Len for her "kind" attitude. Marky's mom then gives them chocolates again. A symbolism of her promise to return and leaves them with Len. Len changes attitude again and gets their chocolates.
Marky is drawing an Igorot again and Len catches him. She scolds him for wasting paper and making a mess and rips Marky's drawing into pieces.
Tita Mildred calls and checks on them. Len warns them not to tell anything about her harshness. Marky asks his mom about his dad and why they separated. Tita Mildred tells them that they aren't for each other. Marky says that they wish that his dad take care of them instead while she is gone. Tita Mildred worries and talks to Len. Len says that everything is fine.
Tita Mildred comes back and gives them clothes. While trying on a dress, Tita Mildred notices a wound on Andrea's head and Len tells her that they tripped and fell. But Tita Mildred notices something different about Len and like Marky and Andrea is hiding something.
Len scolds the two and hits them hard. Tita Mildred saw what Len is doing and tells Len to leave the house at once. Marky tells his mom that if she didn't leave them they wouldn't get hurt. Tita Mildred apologizes.
--Vina

Due to their Poorness, Marky's allowance when he goes to school then--P1, and because of that, he only eats to their School Canteen only one times a week. Marky sometimes help his family--by selling Ice Drops on the Sidewalk.
6 years later..
He is now a teenager. They are waiting to their Papa with Andrea. There's a man whom they thought that their Papa, but they are wrong. They are n ow going home when their Papa called them. They group hugged as because they doesn't meet for years.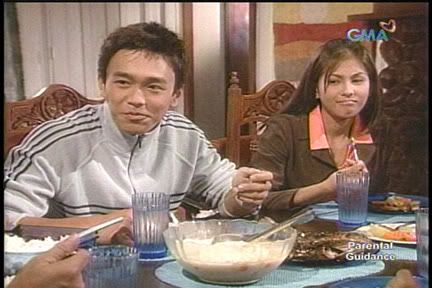 Inside the house, they are happily eating dinner because they are now completed as a Family. Marky ask his Papa: "Diba 'pa, dito ka matutulog ngayon?" "O, o-o" his Papa replied. Tita Mildred said that there are a extra room in their house that their Papa can sleep to. "Diba 'pa, dito ka na rin titira?" Marky ask again his Papa. "Ahh, titignan natin.." his father answered.
At that very night, his father went outside the House to leave. Marky followed him. His father then said that he will return for them. Marky ask on when. His father then said that he will just return. They hugged and tears falls from their eyes.
Marky was scotch-tapping his Igorot drawing when he was young that Len have ripped. Tita Mildred arrives. Marky ask Tita Mildred if she and their Papa lives together again. Tita Mildred replied that it is hard. But he said that that is hard also for them--as a broken family. But Tita Mildred said that she loved them. And hug again.
But Marky now accepted that they are a Broken Family. He was talking to his dad. Marky said that everytime he was thinking of it, he was getting sad. "Kailangan tignan mo yung biyaya, hindi yung pagsubok" his dad said to him. His dad said he love them. His dad then said that Marky should think of his Future.
Marky thought that his Father is right, to think of his future. His talent is dancing. But he didn't know, his talent will be the one that will bring him to Stardom.
In his school, his friends ask him if he knew StarStruck, and ask him if he wanted to join--to represent their nation, Mt. Province.
Marky thought that they are right. So, he went to the StarStruck audition and Tita Mildred was with him. He told her mother that he was nervous. "Ngayon ang panahon para ipagtanggol mo kung sino ka at saan ka galing" Tita Mildred said to Marky.
Her sister teased her one night and said that Marky should sleep, because maybe on his dreams, he will dream of him being a StarStruck Winner. But her sister then said to him: "Diba sinabi ni Lola, kung Rice Terraces nga naukit natin, StarStruck pa kaya"
(A scene showed where Christian Esteban fetched him in their house)
(Then after that, a scene showed that he was accepted at StarStruck)
Marky was talking to his dad on the phone. "Parang pagdo-drawing 'yan, pinag-aaralan" his dad said to him, referring to stardom. His dad said that winning is not important.
Marky's friends congratulated him just right after the Final Judgment. While Tita Mildred was talking to the phone (to the Mayor of Mt. Province) and said that the Mayor wants to talks to Marky. Tita Mildred gave Marky the phone and congratulated Marky as a Sole Survivor. The mayor said that they are proud of him.
Marky went to his room and saw a gift-from Tita Mildred. Containing lotsa chocolates. He remembered that Tita Mildred gave them lots of it when they are still young. Tita Mildred and Andrea went inside his room and hugged..
--Juliuz
episum by:

Vina and Juliuz
Vina @ 4:27 PM | Category: | PermaLink |
------------------