Thursday, October 19, 2006
Goong 2 Cast Announced!
i maybe the only one with this opinion here.. but i dont really like the new casting.. i mean, why remove the original characters? they're the ones who have gathered a million of fans from all around the world.. JJH and YEH were a totally cute couple for the fact that they contrast each other and thats what made them attract fans.. second, im a bit biased here cause i'm not a se7en fan at all..
and as you may have noticed.. it's new title is Prince Hours.. the story now focuses on the prince wherein the first one focused on the Princess.. Chae Gyeong..
i almost cried of disappointment.. as i've said it was like losing my appetite over my favorite food.. sigh.. but i have yet to watch this..
--
Goong 2 (궁 2) Prince Hours
Cast
: Se7en/Choi Dong Wook , Heo Yi Jae (Sunflower, 비열한 거리), Park Shin Hye (Heaven's Tree), Kang Doo (Hello Francesca)
Plot
: About a prince who does not know he possesses royal blood who is working as a delivery boy in a chinese restaurant. The story is about him entering the palace and what happens after that.
Filming will start in November 2006 to be aired on MBC in January 2007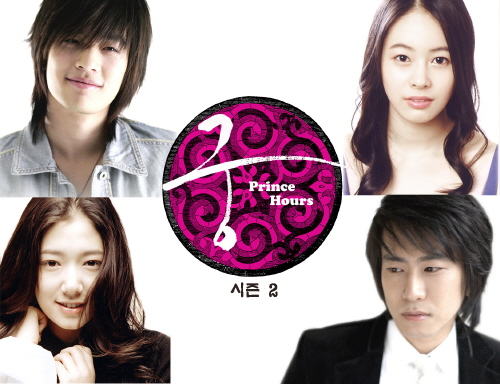 Characters profiles
(Credit Sandy @ purpletiger86 for translating)
Seven
aka Choi Dong-Wook plays the character: Lee Hoo
Huh Lee-Jae
plays the character: Yang Soon-Ae (she's the main female lead, since she plays the opposite of Seven)
Kang Doo
plays the character: Lee Joon (he's from the group 'The Jadu', but according to that picture of the four leads...he sure doesn't look like Kang Doo, lol)
Park Shin Hye
plays the character: Shin Sae-Ryung
Lee Hoo (Seven)
: His blood flows in a Royal family, but Lee Hoo doesn't know it. Not knowing that he's a prince, he works at a Chinese Restaurant as a delivery boy...delivering food in the palace. He looks at everything in a positive aspect and is an optimist by nature. Though he's in poverty (poor), he lives every day freely...but one day, something happens and it's the start of his life as a royal.
Yang Soon-Ae (Huh Lee-Jae)
: Everyone in the neighborhood knows Soon-Ae as an impracticable girl. She thinks preciously of her fraternal twin. But one day, she finds out that Lee Hoo is the boy that she grew up with as a child, and they start their life's together in the palace.
Kang Doo (Lee Joon)
: To become a prince, he recieved training as a mastery elite. He's a great candidate. Lee Hoo's appearance makes Lee Joon get farther away from becoming a prince. He's a perfectionist.
Park Shin-Hye (Shin Sae-Ryung)
: Honor and power, Sae-Ryung grew up in a wealthy family. She has never lost first place/spot at school (meaning she's very smart)...she has skills and the looks of becoming prince's wife. She always had the ambition of becoming a royal princess. However, the prince that she has always imagined of is completely different when she see's Lee Hoo's sudden appearance. A change comes to her way.
credits: soompi forums



Vina @ 10:05 PM | Category: | PermaLink |
------------------